Simple "root-fifth" bass line practice in all 12 keys
Add to favorites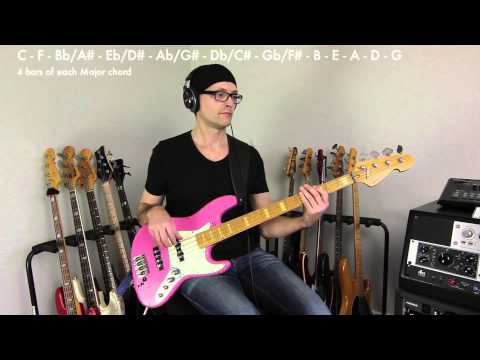 Im doing some Basic bass playing lessons , since I have/have had several intermediate level semipro and working bassplayers as students that are NOT able to transpose even simple basslines, since they have only learned the fingerings and patterns of a specific song and just the inoriginal key. But it is not THAT hard to transpose on bass – or guitar for that matter, since we can move most shapes and patterns up and down the neck with the same fingering.
Im playing over a rock backing track ( ive used it before, see some of the previous lessons )
If you are a guest then you will see this text instead of a link to a transcription, TAB or backing track for this lesson.You then need to register to download (click the "register" link at top left of the homepage below the header image).
All Major Chord s played 4 bars each
C
F
Bb/A# ( "/" show the keys that are enharmonic, its not a "slash" chord)
Eb/D#
Ab/G#
Db/C#
Gb/F#
B
E
A
D
G
In the first couple of playthroughs im playin mostly "root- fifth" basslines with are pentatonic scale lick in the end of each 4 bar period. Later i play around with going from the root to the third using chromatic notes.
Im playing my pink Sandberg California bass, strung with Dunlop nickel strings – gauge 45-105, through a tc electronic RH450 amp's direct output into Logic pro
'