Larry Graham jams with 10 Danish bassplayers
Add to favorites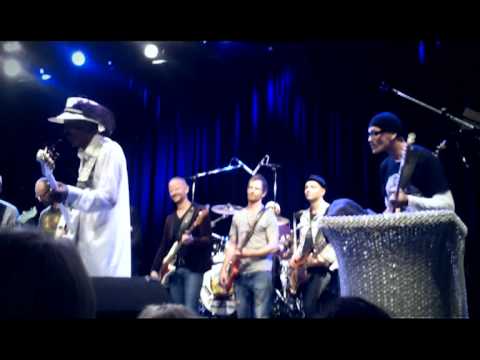 In connection with Larry Graham and Graham Central Station's concert November 6, 2011 in Amager Bio, Copenhagen, Larry Graham wanted something extra to happen during his bass solo.
So he contacted me (LG knows me from last time he visited Copenhagen where I interviewed him and also joined him on stage – see link below) and asked me to assemble 10 bass players than would join him on stage for an improvised bass jam.
Needless to say , it wasnt hard to find volunteers, we could have been 20 on stage!
Every versatile bass player over the age of 25 knows Larry Graham and is on some level inspired by him
But there was only room for 10 plus Larry and his band.
What a blast! When I looked around I only saw ear to ear smiles on my colleagues faces:-D
Bassplayers from left to right:
Morten "Jay" Jacobsen
Mikkel Risum
Nikolai Wolf
Christian Grønborg-Veitner
Nicholas Findsen
Mogens Palsbøl
Maciej Szymczynski
Henrik West
Bo Stief
Thomas "MarloweDk" Risell
Did you like this?
If so, please
bookmark it
,
about it.