L299 Hip Cm7 pattern using the Bb Major pentatonic scale
Add to favorites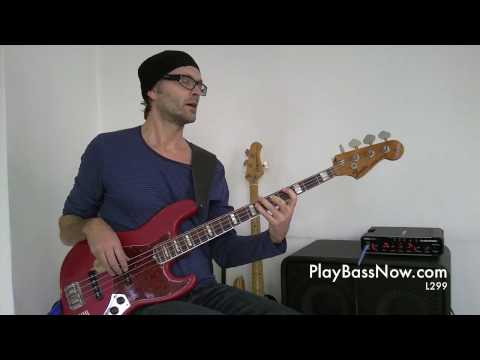 An example of getting out of the root note box when improvising fills and solos.
Our trusted pentatonic scale – the Major pentatonic (1, 2, 3, 5, 6) is used for more advanced sinister purposes:
Even if you are playing over a Cm7 chord,  STOP thinking dorian and minor pentatonic from the root C, but  think MAJOR and major pentatonic starting on Bb (the b7 of Cm7).
And another way of looking at it :
Cm7 is the second (llm) step/mode of the Bb major scale (l) – so the notes are the same , we just emphasize other scale steps – most important we DONT emphasize the root C
For this fill im using only notes from the Bb Major pentatonic scale to make it even simpler and most bassplayers have that scale in their fingers allready
Totally different patterns will appear on your fretboard , when you think in other scale degrees than the root, and you will make up new hipper lines
Support PlayBassNow and download original video, transcription/TAB and mp3 version here
---
---
---
---
---
---
---
---
---
---
---
---
---
---
---
---
You must be logged in to post a comment.